This event that was being referred to was Off Screen and was possibly during a time that Lucy may have been taking a bath. She is then seen Soaping up her breasts with a Sponge made the look like Gray Fullbuster while she appears to be Self Pleasing herself with her other hand. After the opening credits, the scene resumes to Lucy looking surprised at Cana having a Bath in Lucy's tub doing a Bath Kick and complaining that Lucy doesn't have any booze in her house. During a series of flashbacks Lucy Heartfilia has of the times Natsu Dragneel has invaded her house, one of them is of her finding Natsu bathing in her bathtub with Happy the cat. Mirajane Strauss is still unconscious in the Tube Bath at the Tartarus guild that she was put in 2 episodes ago. In the shower she flashes back to the battle of her comrades being defeated and gets angry and punches the wall when she has a flashback of the guild master being defeated.
When we see Lucy, she is in a Towel with her hair tied up and looking in the mirror with Plue sitting on the sink deflated.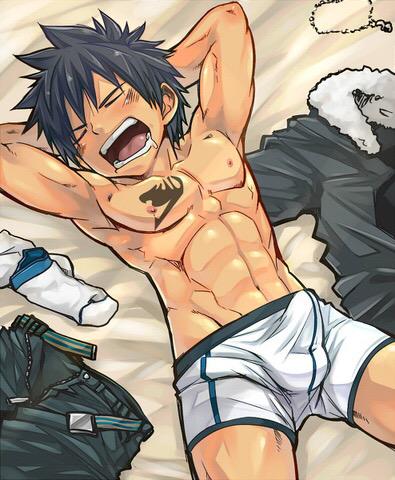 Fairy Tail
Freed Justine and Bickslow are shown bathing in a Hot Spring on the chapter cover. Lucy is then seen getting out of the Bathtub and drying herself off then while wearing a white towel, walks over to a wall covered with photos newspaper clippings of all the news and information she has found about where all the guild members have gone. Erza Scarlet ends up barging into the males side of the Magnolia Public Bath from misleading directions she got from Evergreen after defeating her. As Lucy cheerfully leaves the bathroom in a towel she finds Natsu Dragneel and Happy invading her house once again in her living room. The girls talk about how the guild has suddenly been getting alot of work with Levy saying that Jet and Droy let her have the day off and that they were going to handle their mission themselves. Afterwards she leaps into the living room still in her towel only to find Natsu Dragneel and Happy the cat invading her house getting her angry and frustrated.